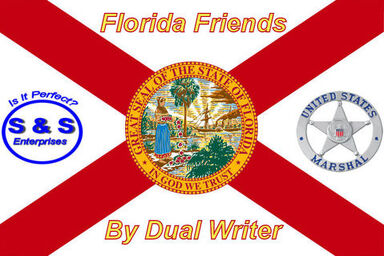 What is FloridaFriends wiki all about?
Edit
Welcome to Florida Friends. We are currently editing 135 articles. All pages can be edited and you are welcome to join us and contribute to this wiki. Everyone is free to create a new page or edit an existing one.
FloridaFriends is a collaborative website about the Florida Friends stories written by a gentleman who goes by the pen name of Dual Writer. The actual stories can found on Storiesonline and discussed on the SOLFloridaFriends Yahoo Group.
To read the full stories on Stories On Line you need to register, but there is no fee unless you wish to have the extended/advanced services.
The on-line novels and stories forming this fictional universe have a number of repeating characters, locations, ships, and so on. The fans of these stories wanted to have a place to store and share this information.
Warning! There may be spoilers on these pages. The material here assumes you have read all of the published novels, stories, and even blog entries.
Navigation: there are a few ways to easily see what's available on this wiki: All Pages, wiki-specific Google search, and the Category Tree.
The Latest News
Edit
Starting Points
Edit
Books and Stories
Edit
There are fifteen novels and short stories so far in the Florida Friends series. As stated in the Latest News, Dual Writer has started posting his latest book. Normally a new chapter is posted every Saturday. If you haven't read them, Vacation? is probably a good place to start. See Category:Books for a full listing.
Characters
Edit
See Category:Characters for a full listing. The major characters are Steve Sharp and his family and friends; and Chuck Johnson and his family and friends. These two groups befriend each other, and almost merge at times. Many other characters become peripheral friends and secondary characters, but some of them get their own books, specifically Tom Parks, Geraldine Shadow and Mark Robins.
Contribute to the Wiki
Edit
Want to help? Create a login, and then start editing pages. Please read FFWstyle for style conventions to make this wiki look consistent. If you are new to wikis, take a look at FloridaFriends_Wiki:Community_Portal. Wanted pages contains a list of pages that need to be created.
A good example is Spearfish Lake Tales wiki.